Most savvy inbound marketers know that blogging is a vital tool in attracting the right visitors to a website. But we can take this conversation a step further with a strategy that can be pretty divisive: guest blogging.

Some marketers will say guest blogging is a waste of time. Others swear by it and consider it an essential part of their marketing strategy. In this instance, both sides of the debate are true. Guest blogging can eat up time and resources, but when done right, can be a powerful tool for your business's growth.

In this blog, I'll break down what exactly guest blogging is, some of the most convincing benefits, and how you can get started.
What is "guest blogging?"
Guest blogging, also referred to as "guest posting," is a content marketing tactic that involves writing content for another company's website. What?! Posting content to someone else's website? It sounds sacrilege, but it is often a win-win situation for both parties.
Guest blogging can help a company gain brand exposure and target new audiences. And if you feature guest writers, you'll be able to deliver new perspectives and fresh content to your audience. Guest bloggers can help you offer new content to your readers without much extra time or work required of your marketing team. And there's a two-way promotional boost when it comes to guest blogging. Whether your content is featured on another website or you feature a guest blogger, there is cross-promotion to be had.

►New to blogging? Check out our beginner's guide to B2B blogging. Click here.


Why does it matter?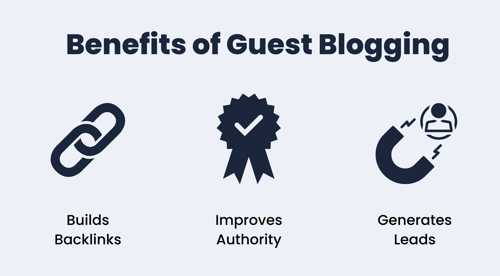 So far, guest blogging sounds like a good idea (and it is), but as I mentioned previously, this particular tactic is pretty divisive. Some inbound marketers shy away from guest blogging because they're not sure if it will help or hurt their business. It's no secret that there is a ton of spam on the web. In more recent years, there's actually been an increase of "spam bloggers" who shill out low-quality content for their own backlinking and SEO benefit, which has many marketers avoiding guest blogging altogether.
But in my opinion, the benefits of writing guest blogs or accepting guest blog content outweigh the negatives. Especially if you're able to vet the guest blogger. Check the work being pitched to you and even their references. We recommend a hard 'no thank you' to anyone who isn't willing to provide proof of their ethical and professional blogging.
At the end of the day, as long as you're creating high-quality content for legitimate websites, guest blogging is a lucrative investment in building authority and improving search engine rankings. Let me break it down for you.
Builds Backlinks
Guest blogging is one of the most effective ways to get backlinks from other websites to yours. Search engines like Google use backlinks to help discover and rank content — and more importantly, they are very valuable for SEO. Backlinks can be inserted in different areas of the post, especially if it relates to other content found on your website. Google will crawl the links — and this is where it gets good — quality links on quality websites leave good impressions on the search engine visibility, and that will improve your site's SEO ranking.
Improves Authority and Reputation
Guest blogging is also a great way to demonstrate your expertise in a subject or your company's relevance to the industry or the importance of a service you provide. When a reputable site publishes your guest blog, it increases your exposure. Finding popular and relevant websites to your industry and business will expose your content, thereby your company, to new readers.
But it goes beyond that — when a popular and reputable site shares your content, it's recognizing you as an entity to trust. By writing about what you specialize in, you're building credibility and readers will, in turn, see you as the "go-to" source for information.
Drives Lead Generation
When readers need the services you provide, hopefully, they'll remember you because you're a quality source of information. If guest blogs are interesting and useful enough, they can engage readers to click links, leading them into your site and into your funnel. This is why it's imperative to know who your audience is, even when guest blogging, and what keywords will draw the right attention (check out this blog on SEO content strategy if you want to learn more). But keep in mind that new leads may not happen immediately — blogging is your long game. Even if new leads don't reach out after the first couple of guest blogs, rest assured they are making a positive association between your business and the services you can provide.
How do you get started?
If you've made it this far, I think it's safe to assume I've piqued your interest in guest blogging. Great! Here are a few steps that will help you get started:
Set specific, measurable goals: When you have clear goals it becomes easier to pick topics to write about, figure out where you want to be published, how frequently you create guest content and more. Goals can be related to business performance (i.e. getting more leads) or website performance (i.e. improving search visibility), but they should include metrics that can be traced back to your efforts.


Choose the right topics: This is an important step — you'll want to focus on topics that will boost your business goals and align with your marketing strategy. To build out a successful guest blogging strategy, you need to create quality content that will garner the attention of publications while also serving your goals. This may mean you need to do separate keyword and industry-specific research to determine what topics are best suited for your guest content.


Find the right sites: After figuring out what you'll be writing, you'll need to put together a list of target websites that you want to publish your content. The best approach would be to find websites within your industry that accept guest posts. Scrubbing a site with Google's Advanced Search function or even checking a competitor's backlinks may help you find the right sites for your content.


Pitch, pitch, pitch: Before you pitch guest content to a site, it's crucial to do your research. Now that you have several topics and a list of sites, take a look at where your content would fit best on a particular site and craft a straightforward pitch that speaks to the gap. Keep the site's publishing guidelines in mind, don't beat around the bush, and above don't use the site as a way to sell to their audience. Write to educate and/or entertain.


Track your results: This is arguably the most important step of all — you'll want to track your results to see if you reached your goals and use the insights to continuously improve the process. Depending on your goals, you may need to implement different SEO tools to track different metrics. Our go-to tool is Google Analytics, which can track how much traffic your guest post is generating. You can also use the insights to determine on a broad scale, what readers want to hear about and see what is really working for your business.


Bonus Tip: Promote your blog! Don't forget to share your guest blog post on your social media networks and in your newsletter (if you have one, which you should). This generates traffic back to the site that published your work, which will send members of your audience or network to the blog post to comment and share. Remember, the more people that engage with your content, the more popular the post will become in an SEO search.
The Takeaway
Guest blogging can be a powerful asset for SEO and content marketing. It's a popular tactic because sites that accept guest posts usually allow authors to link back to their own content or resources — as long as it makes sense for the reader. But don't try and overdo it for the sake of building backlinks. Ignoring content quality and user experience may end up hurting both your SEO performance and your brand's reputation. Make sure the values and practices of the company you're guest blogging for (or accepting guest blog content from), match your own. Write to educate and entertain readers and you'll likely see positive results.
When done right, guest blogging can help to rake in new leads and entice readers that can be converted into clients. However, if executed the wrong way, guest blogging can be a huge waste of effort and resources. Don't let that keep you from giving it a try, my best advice when it comes to guest blogging is to get started and learn along the way.