I refuse to use any of the terms that we are all hearing daily now to describe why your market has changed. You know what I'm talking about. Lines that are becoming almost cliche:
unprecedented and uncertain times ~ extraordinary events ~ atypical age
new normal ~ trying and challenging times ~ unchartered territory ~ unreal times
~ hot mess ~ beyond thunderdome1 ~ dumpster fire ~ etc.
They are all starting to blend together and lose their impact. So let me say it this way. The market has changed on you and the marketing plan you wrote for market domination in 2020 is likely no longer useful, nor do you have the budget to execute much of it anyway. You couldn't plan for this but now you have to deal with it.
What should a marketer do?
It's time to PIVOT.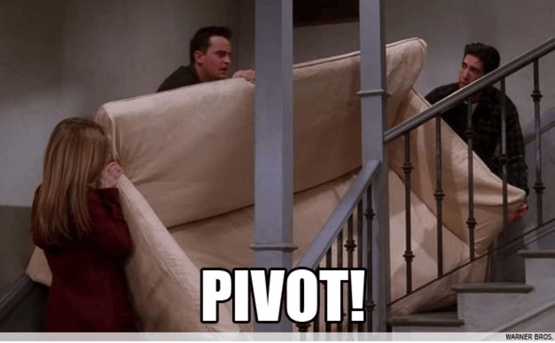 According to Webster's dictionary the word "pivot" can be used both as a noun or a verb.
Noun: the central point, pin, or shaft on which a mechanism turns or oscillates
Verb: turn on or as if on a pivot
Or, in the case of Ross from Friends, it can be a last-ditch cry as you attempt to move furniture with your friends up a narrow and turning staircase. But let's put it into marketing context.
Pivot The Verb:
Did any (or all) of these things happen to you recently?
Budget cuts
Staff reduction
USP (Unique selling proposition) no longer matters to your target audience because they're caring about other things now
Trade shows and conferences canceled2
Target customer changed
New, emerging market becoming the focus of your leadership team (and they are people you know nothing about yet)
There are suddenly new uses of your product (producing alcohol for hand sanitizer instead of cocktails is a great example)
The good thing is that you're quick on your feet and able to pivot. The bad news may be that you don't have any way to communicate the new plan nor reposition your team to get the plan executed. You'll need an easy-to-understand, visual marketing plan that helps keep everyone rowing in the new direction.
Need to change your marketing directions fast?

Pivot The Noun:
Your marketing plan needs to be the central point on which your business oscillates (the pivot point). What I'm trying to say is that if your plan is in an executable template (and not a 45-page word doc), you're much more likely to be able to change it quickly with the times. This may seem like a very un-marketing thing to do, but our marketing plans are actually multi-tabbed spreadsheets that are equal parts strategic alignment and tactical execution. The tabs are as follows:
The Strategic Overview: Great for executives and a quick summary to the rest of your organization, our marketing "house" visually shows how the marketing plan aligns under the overall company goals. It includes marketing's focus areas for the next 12 months and the key performance indicators that will be met if the plan is successful.
The Strategic Goal Tracker: An overview of what needs to be done, at a high level, in each of the marketing focus areas. This includes a column for a brief description, the owner, contributors, priority, and target launch dates. It's a great tool for looking at the year's worth of work in a list format, before you task it out in a project management tool.
The Demand Generation Calculator: Every executive wants to know what they are going to get from their marketing spend. Using a simple calculator you can estimate conversion rates of leads through your sales and marketing funnel and not only get a marketing-influenced sales dollar estimate, but also a clear picture of how much broad marketing you'll need to do at the top of the funnel.
The Annual Calendar: Another way of looking at the spread of marketing initiatives and the focus areas they cover in a visual way. This color-coded tool reassures everyone that marketing is 1) busy and 2) working on all of the focus areas throughout the year. It's also helpful for pushing back when new ideas are suggested to the marketing team as you can point to the calendar and ask where they would like that new idea to fit in (and what items can be delayed).
The Quarterly Budget Reconciliation: Very simply; Here is what we said we were going to spend in this quarter and this is what we actually spent. If you've got the right technology stack3 you can divide your marketing-influenced sales for the quarter by that spend and get a hard to dispute return on marketing investment metric to share too.
Need to pivot your marketing plan?
When your plan is light on text and easy for non-marketing teams to understand, you'll find it easier to communicate what needs to be done to address the new needs of your market.

If you'd like to give it a try, click here to download our free Marketing Plan Pivot Template. The first tab includes all the instructions you'll need to quickly create your new, 3-6 month, "pivoted" marketing plan to address (these unprecedented, surreal, uncharted, and challenging times) your new reality.
If you're looking for a little more help or just don't have the time and resources to do this all on your own, give us a shout. We have a proven process for creating a tactical, agile marketing plan for the next 12 months that directly aligns with your mission, vision, values and overall company goals. Over the course of 30 days, and using only virtual meetings, we'll deliver your new plan and give you the know-how to complete a strategic and tactical marketing plan for the next years to come.
---
1 I was involved in PR conversation via Facebook the other day as folks were trying to come up with new words to describe the current situation. This was one of the group favorites but it only makes sense if you were ever a Mad Max fan.
2 If you had a marketing plan full of face-to-face conferences, trade shows, and meetings, you may want to check out our April blog post titled "5 Ways to Generate Leads After Your Conference or Trade Show Gets Canceled."
3 Marketing & technology are colliding! The world of marketing operations continues to evolve to include more left brain function than ever before. Interested in learning more? Check out our blog on the right & left brained marketing team.