Is it possible that you don't need an in-house marketing staff? I'm going to make the case that for small B2B companies (under $10MM) you might be better off outsourcing most, if not all, of your marketing team.
First, before we talk about whether you should hire marketing staff or not, we need to agree on what "marketing" is. It used to be that marketing was mainly branding, advertising, and trade shows, but today marketing includes much more than that. Marketing today is mostly digital because the buyer's journey is mostly online. That means you need to deal with marketing automation, email marketing, website design, customer experience design, search engine marketing, social media, and content marketing. You may also still be doing traditional advertising, trade shows, and direct mail.
Also, let's agree on what marketing should do. Ultimately, it should attract new customers and re-engage old customers in a way that leads to sales.
Okay, now that we agree on what marketing is and what marketing does, let's do a thought experiment. Imagine you own a growing company and you want to make your first marketing hire. Who should that be?
Most companies when faced with this challenge look for a Director of Marketing as their first hire. They hope that they can find someone experienced enough to do the high-level strategy and planning, but also will "roll up their sleeves" and do the execution of the day-to-day work. Is that what you thought? Here's what you need to know. That person is a unicorn. They don't exist… and if they did exist, you'd be paying them too much since most of their time would be doing day-to-day execution work.
If you understand how marketing work is done in an organization it will help you understand why a Director of Marketing is a bad first marketing hire for a growing company.
First, a company needs a marketing strategy that aligns with the company's goals. At 1 Bold Step, we do an alignment exercise with our clients that produces a strategic marketing plan and we can usually get it done in about forty cumulative hours of work. That's right, just forty hours! Throughout the year we may spend a few hours here and there tweaking the plan based on new information and market conditions, but it doesn't take too much time for a highly seasoned marketing person to develop and maintain a winning plan. You don't need a full-time person for this.
Once you have a plan, you need someone with experience to manage the work and make sure it is getting done in alignment with the company's values and brand in a way that drives revenue. But that's not a full-time job either for a lot of companies. As a matter of fact, I'm able to do that for several of my clients at 1 Bold Step in about ten hours a week or less.
The lion's share of hours in a marketing department go to the day-to-day execution work of writing content for emails, writing blog posts, event planning, creating and posting on social media, managing ads, etc.
Now, before I start getting hate mail from my marketing peers, let me just say that every company is unique and there are certainly some small B2B companies that require full-time in-house staff to fulfill their marketing needs. But for many of our small B2B clients here at 1 Bold Step, we are able to fulfill their marketing needs in just 60 to 80 hours a month… and for less money than they would spend on a Director of Marketing.
My point is that if you think about the work the marketing department does, you'll see it can be represented as a triangle. It takes a little strategy and planning, a little more management and experience, and a healthy dose of day-to-day execution.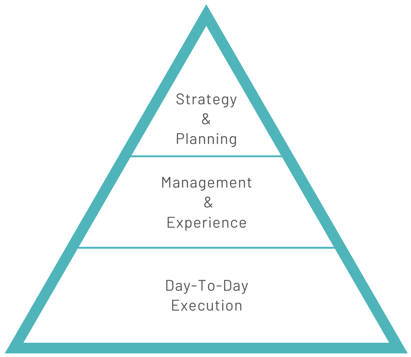 Here at 1 Bold Step, we often act as our clients' marketing department. We call our service a "fractional marketing team" because we provide a fraction of a CMO, a fraction of a Director of Marketing, a fraction of a Marketing Manager, and fractions of execution people as needed. As the client, you only pay for what you need instead of employing full-time staff without enough full-time work.
So back to our question of the first marketing hire for a small company. I propose that the first hire for a small B2B company, when there is enough volume of marketing work, is a Marketing Manager.
This person should have enough experience to manage the day-to-day work and make sure it stays on brand and ultimately generates sales. They should also be able to do much of the day-to-day work. This person should also be a good copywriter and editor, as much of their work will be writing marketing content.
Don't expect your Marketing Manager to develop strategy, do planning, design and implement processes, or oversee branding work. Use someone like us here at 1 Bold Step, or another fractional CMO to provide that kind of high-level guidance. Equally, outsource the day-to-day work that your Marketing Manager isn't good at, maybe SEO, Google Ads, or marketing automation.
Modern marketing is complicated as there are many more channels to reach the customer and most of the channels are digital. No one hire is going to be able to fulfill all your marketing needs. If you want your marketing done right, marketing that attracts new customers and reengages old customers in a way that ultimately drives sales, you are going to need to outsource some, if not all, of your marketing team to get the right kind of skills.
Reach out to us here at 1 Bold Step and let's talk about how we can help you build a marketing machine for your business.
For more great marketing tips, click here to subscribe to our blog.