When it comes to marketing your product or service, are you talking to the right person? If you've felt like your marketing ROI isn't as high as it should be, it may be time to evaluate whether you're marketing to the right audience. That's where a buyer persona comes in. In this blog, you'll learn what a buyer persona is, why having one is beneficial to your business, and what you should include in this easy-to-follow guide and persona building tool.
What is a buyer persona?
A buyer persona, also known as a customer persona, audience persona, or marketing persona, is a semi-fictional representation of your ideal customer. In other words, it's a very detailed description of someone who represents your target audience. A buyer persona isn't a real person, it is the embodiment of all the best characteristics (and pain points) of your best potential customer. Here is an example of a buyer persona that I created of myself: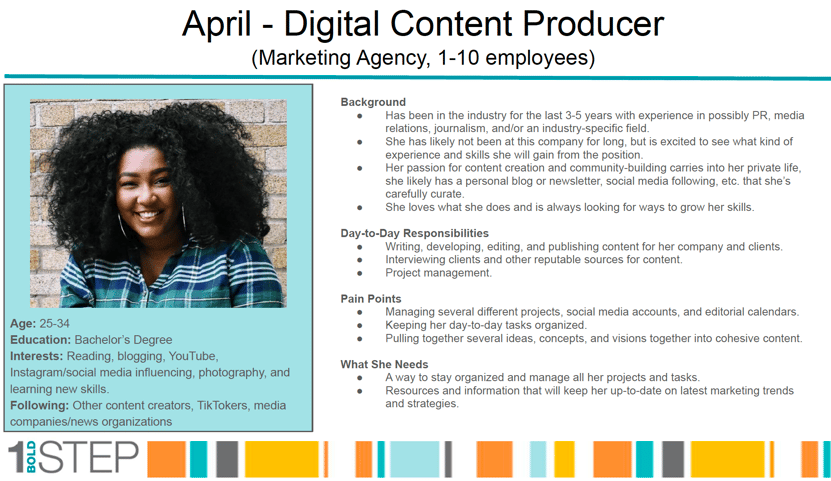 At the most basic level, this is a persona for a Digital Content Producer at a small marketing agency. My persona has several clients, projects, and due dates to keep track of – so this would be an ideal persona for a company that markets a project management tool. This particular example incorporates both tangible facts and emotional aspects of the buyer persona, which would allow the marketing team to gain a more complete view of who I am as a consumer and how I will act and engage with their company and product.
Why does my business need a buyer persona?
Buyer personas are extremely important to your business because they can help you better understand your customers, focus your time on qualified prospects, and align your work across your organizations – from marketing to sales to service.
Creating a buyer persona for your business will help you to attract high-value visitors to your business. These particular leads will be converted into customers that you're more likely to retain over time.
At the most basic level, having a buyer persona makes it much easier to create content, messaging, products, and services that appeal directly to your target audience and meet their specific needs and concerns. Buyer personas also enable you to target or personalize marketing efforts to different segments of your audience.
Okay, you've convinced me. How do I make one?
Even though a buyer persona isn't a real person, you'll want to think about and speak to this model customer as if they were. When creating a buyer persona, you should include customer demographics, behavior patterns, goals, motivations – the more detailed you are, the better. Like I said earlier, your buyer persona will guide everything from brand voice to product development, down to the social channels you decide to use.
Give your persona a name, interests, traits, and even consider finding a "face" using stock photography. Since different groups of people may buy your products or seek your services, you may need to create more than one persona, And since it's not likely you can get to know every customer or prospect individually, it would be wise to create buyer personas that represent each segment of your customer base.
Check out these easy steps to start creating your buyer personas.
Step 1: Do Thorough Audience Research
Your buyer personas need to be based on real-world data, not just gut instinct. Use demographics gleaned from your website, customer databases, social media analytics (i.e. Facebook Audience Insights), and most importantly, Google Analytics. All of these resources combined will help you learn more about your audience. And be sure to consider specific details like:
Age
Location
Language
Career or job, and their specific role
Spending power and patterns
Stage of life
For B2B marketing, also consider the size of the business and who makes purchasing decisions.
Step 2: Identify Customer Pain Points
Now that you know who you're talking to, what exactly do they need? It's time to think about the problems or pain points your potential customers are trying to solve. What's holding them back from success? What barriers do they face in reaching their goals?
One key way to find answers to these questions is to monitor social media channels (i.e.: Facebook, Twitter, LinkedIn) to see what your potential customers are saying about your brand, products, competitors, and more. This is called "social listening."
Set up search streams to monitor mentions of your brand, products, and competitors to see what people are saying online. Learn why customers love your products or which parts of the customer service experience could be improved.
It's also wise to check in with your customer service team to learn which questions are asked most often. Use these questions or concerns to help identify patterns in your customers and the different kinds of challenges they face. You could even go as far as collecting real customer quotes to use to give your buyer personas even more depth.
Step 3: Identify the Customer's Goals
Once you've learned the pain points, you should also consider their goals or aspirations – all the positive things the customer wants to achieve.
Find out what motivates your customers. What's their end game? Their goals may be directly related to the solutions your company provides, but they don't always have to be. Learning your customers' goals is more about getting to know your customer on a deeper level. The goals of your personas' are incredibly important, even if they don't relate specifically to your products or services. These goals can form the foundation of a campaign, or even inform the tone or approach to your marketing.
Step 4: Understand How You Can Help
With a better understanding of your customers' pain points and goals, you can create a really clear picture of how your products and services can help them – and that means creating marketing narratives that will turn prospects into leads.
The hardest part of this last step is thinking beyond your company's products and services – dig deep to figure out the benefits you offer to your customers and speak directly to them.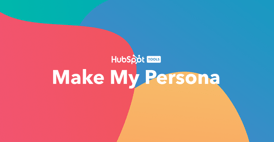 Build Your Buyer Persona
Now that you know what to include in your buyer persona, it's time to put it all together. HubSpot has a very easy-to-navigate persona tool. There is a guided walk-through that you can follow for even more help. Check it out here.
The Takeaway
Buyer personas aren't just an item to check off your marketing strategy to-do list, they are critical to the success of your efforts. Personas help ensure all the activities involved in acquiring, serving, and retaining customers are tailored specifically to your targeted audience's unique needs. Your buyer personas can be your marketing team's True North, and they can help your sales team build quality rapport with potential customers turning them into leads.
If you need assistance in determining your company's buyer personas and how to best utilize them in your marketing, let us know! We'd be happy to help.
Otherwise, be sure to subscribe to our blog for more great tips to help your marketing go from overhead to value add.