Grand Rapids-based agency recognized for expertise in delivering customized HubSpot onboarding and training to enterprise companies.
GRAND RAPIDS, Mich. — Grand Rapids-based marketing operations agency, 1 Bold Step, recently earned the HubSpot Onboarding Accreditation, allowing the company to expand its services and capabilities for customers. As a HubSpot Platinum Partner Agency, the 1 Bold Step team is thrilled to have earned this recognition which underscores the agency's commitment to providing top-tier services to its clients, as well as the team's dedication to mastering the HubSpot platform.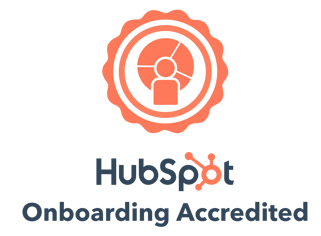 The HubSpot Onboarding Accreditation and Partnered Scale Onboarding (PSO) program signifies an exceptional ability to guide businesses in effectively leveraging the HubSpot suite of tools for optimal growth. The PSO program is an innovative, highly selective approach to ensuring customers are effectively introduced to HubSpot. HubSpot is a cloud-based software platform that assists companies in attracting visitors, converting leads, and closing customers through inbound marketing and sales techniques.
This accreditation sets 1 Bold Step apart from the vast pool of over 6,000 HubSpot partners worldwide. With less than 50 HubSpot Onboarding Accreditations and PSO partners in North America, it's a testament to their proven track record of delivering exceptional HubSpot onboarding experiences.
"More and more companies are using HubSpot, but not always to its full potential. Through this accreditation and onboarding program, organizations can rely on companies like us to ensure they're being guided and trained by a true solutions partner," said Adam Clarke, President of 1 Bold Step. "As a team, we use it, and have over 100 customers we've onboarded, or currently support, and are here to help others. This latest accreditation is a testament to the value that we as a company place on not just continued learning and process improvement, but overall operational excellence for ourselves and our clients."
1 Bold Step was required to demonstrate a strong aptitude in providing strategic and operational guidance, data-driven decision-making, training design, and management. This accreditation required the team to be cross-trained and certified in at least ten different onboarding-related certifications. Then the team provided a written and video case study of a complex onboarding of an existing 1 Bold Step client to be reviewed by the accreditation team.
"We've been onboarding clients to HubSpot for years now, it's a part of our process and the work we do at 1 Bold Step," Clarke continued. "Now, organizations can be confident that they're finding partners in the marketplace with specific experience that is certified by HubSpot. And through HubSpot, we are more easily matched with potential clients that need our exact expertise."
Along with the HubSpot Onboarding Accreditation, 1 Bold Step has 30+ certifications including, Content Marketing, Data Integration, Digital Marketing, Frictionless Sales, Growth-Driven Design, Guided Client Onboarding, Solutions Partner, Sales Enablement, Sales Hub Implementation, SEO, and Service Hub, among several others.
For more information about 1 Bold Step's HubSpot offerings and capabilities, click here to visit their website or learn more on their HubSpot Marketplace page.