Our CEO and Founder, Jennifer Jurgens, has been recognized as one of Corp! Magazine's Most Valuable Entrepreneurs of 2023. This award acknowledges Michigan business professionals that are leaders in their respective industries, contributing significantly to the state's business landscape and economic development.
Jennifer has demonstrated unwavering dedication, innovation, and resilience in building and leading 1 Bold Step to its status within the business community. From the launch of the company in 2018 to its current thriving state, Jennifer's entrepreneurial journey serves as a testament to her determination and vision. Her commitment to pushing boundaries and embracing a bold approach has propelled the agency's growth from humble beginnings to a formidable force in the market.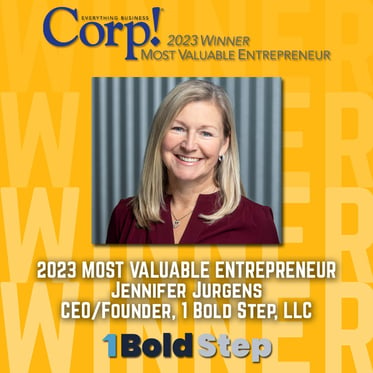 "Leaving my job in 2018 and starting 1 Bold Step is probably my greatest accomplishment in business," she explained. "To start with two people working on my patio in 2019, to owning a building in Grand Rapids with a staff of 14 and one intern, with over $1.6M in projected revenue in just four and a half years is astounding. I'm really proud of this team and grateful for the trust of our first clients."
Jennifer's dedication to client success has solidified 1 Bold Step's reputation as a trusted partner in driving business growth. Jennifer crafts strategic plans that align seamlessly with business goals. Her unique ability to navigate through chaos and complexities draws upon her background in supply chain management, employing the principles of alignment, enablement, and continuous improvement.
"The work we've been able to do for clients ensures there's proof of return on marketing investment," Jennifer continued. "The majority of our clients keep us retained because we continue to help them efficiently and effectively grow their businesses. We work with good people that value what we do. Watching them grow and succeed motivates us every day!"
The agency's commitment to excellence, strategic prowess, and undeniable impact make Jennifer a deserving recipient of the Most Valuable Entrepreneur award. Her accomplishments inspire entrepreneurs and business leaders across Michigan and beyond, and 1 Bold Step is honored to celebrate this momentous achievement while looking forward to continued innovation and success under her dynamic leadership.
Jennifer joins the class of honorees in the 8th Annual MVP Awards. Corp! Magazine has received thousands of nominations and honored hundreds of Michigan professionals over the years for lifting up Michigan business.
Recipients of this year's award will be celebrated during an MVP mixer happening on August 17, 2023, and profiled in Corp! Magazines' special July/August edition of the publication.